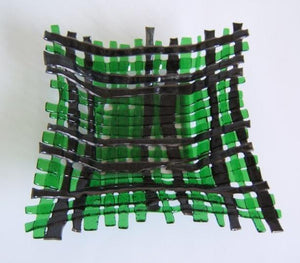 Bloom decorative bowl Green
Contact us if you want to acquire this item and we will provide you with a quote!
Request a quote
A deep bowl in the colors of summer. Colorful, playful, organic free forms fire the imagination. Stand this bowl in a sunny spot, and watch the reflections!  Great as a functional serving dish, as well as a decorative centerpiece. 
Due to handcrafted nature, the plate can vary slightly in size, shape and weight.
Colored glass;
Dimensions: H 60 mm x L 240 mm x W 240 mm;
Weight: 0.9 kg;

Available for personalized engraving;

Packed in custom tailored wooden box;
Handcrafted in Latvia, EU
Please see Glass plate care and cleaning instructions
Domestic orders are delivered within two (2) business days; international orders within five (5) - ten (10) business days from shipping.
If your selected item is not in stock, it can be produced upon your request within 10 - 15 business days, depending on the complexity of the production.
Our store customers have the right to return the unused products free of charge within 14 days of delivery. For rules and restrictions on returns, please check our Returns policy
Reference No. AMGP13718